I met up with Geoffrey Emerson, Hong Kong-based historian (left), and Shun Chi Ming, director of the Hong Kong Observatory (centre), to talk about the wartime diary of Graham Heywood. Over tea at the Observatory, a beautiful Victorian building hidden away on a forested hill in the middle of Tsim Sha Tsui, Kowloon, Geoff and CM explained how Heywood's diary had come to their attention.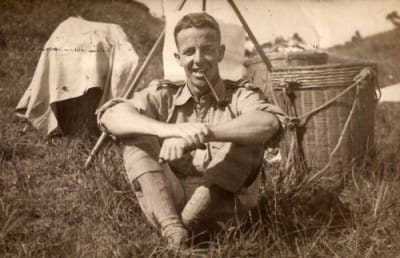 Heywood (right) was one of CM's predecessors as director of the Observatory, and spent three-and-a-half years in the Japanese prisoner-of-war camp at Sham Shui Po after Japan's invasion of Hong Kong in 1941. CM first heard about his unpublished memoir during a trip to England in 2012 to visit another former Observatory head. Soon he was introduced to members of the Heywood family in England and Ireland, who gave their consent to release it.
You can read the full story of this book's journey to publication if you click on the Foreword excerpt on the book's page. The book has been entitled It Won't Be Long Now in reference to the repeated hopes of liberation suffered by Heywood and his fellow internees in the POW camp.
Forty black-and-white photos help to illustrate Hong Kong before, during and immediately after the Second World War. One notable aspect of the text is Heywood's positive frame of mind throughout his imprisonment, which goes to show that our experience of life is largely shaped by the way we look at it.
I am delighted that CM, Geoff and the Heywood family have entrusted Blacksmith to publish this memoir, and a happy coincidence is that Graham Heywood's name was already very familiar to me; he was also the author of Rambles in Hong Kong, a walking guide to the hills of the territory which I first read and enjoyed over 20 years ago, and is still on my bookshelf today.
– Pete Spurrier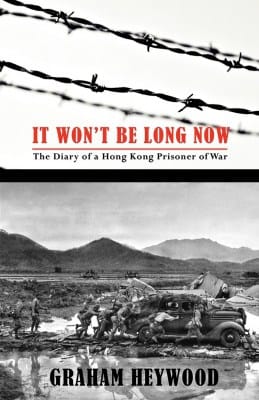 Book event
Graham Heywood's daughter Veronica will be coming to Hong Kong to give a talk entitled "History, Heroism and Heritage: Wartime Memories of Graham Heywood" at the Hong Kong Observatory, 134A Nathan Road, TST, Kowloon at 3:00pm on Monday October 19th, 2015.
Following the talk, discussion and tea, a memorial service will be held at St Andrew's Church next door to the Observatory. All are welcome to both events. There is no charge, but please let Geoffrey Emerson know if you are coming: emerson (at) netvigator.com or 6012 0700.