Lena Sin, one half of the team behind How to Hong Kong, tells us how their illustrated book came about…
The idea for How to Hong Kong sprung from my husband's mind, not mine. Though it would become something of an obsession for me, I was steadfastly against it at the beginning.
"I think you should write a book about Hong Kong," Nick said during one of our spring walks in Vancouver.
"No," I think was my answer. I was a full-time journalist at the time, and though plenty of my colleagues had written books, this was never something I aspired to. News writing has its own particular rhythm and structure; writing a book, on the other hand, seemed so foreign and daunting.
Yet as Nick pushed on about the idea, I started to resist less and less, in part because I loved the idea of working on something completely cheerful — a much needed respite from the daily grind of journalism.
Hong Kong, the city where I was born and raised, was always the place I escaped to on annual vacations. Nick, who never visited until we married in 2007, fell immediately in love with the city too. It seemed like a natural subject for us to combine our skills of writing and art together.
We wanted to portray Hong Kong in a way we'd never seen before. Something beyond the big, brash neon lights. For us, the city has always been softer, a place more intimate than what we saw in guidebooks and magazines. Our Hong Kong was gritty for sure, but also nostalgic and romantic in a way.
The perfect gift for long time Hong Kong lovers, newcomers to the city or the armchair traveller, How to Hong Kong transports its readers to our fave city through its interactive pages. With each chapter devoted to a different neighbourhood that the authors love, the book as a whole is in essence their love letter to one of Asia's most beguiling cities.
We wanted to showcase as much local flavour as possible, but also spotlight fellow creatives who make the city so interesting. Some of the people we feature in the book we found totally by accident, just by stumbling and wandering in places.
The great thing about writing this book was that it gave me an excuse to strike up conversation with people I wouldn't normally have the courage to. We discovered a silversmith tucked away in the lanes of Sheung Wan, an old family-owned tea shop on the edges of Causeway Bay, and chatted away with a lovely old lady who specializes in the ritual of "da siu yun" (hitting the small people). As this was very much a travel journal, we wanted that spark of discovery to be inherent in our pages.
We started our research during a two-month stay back in 2009, but realized later we needed more material. Each time we travelled back in subsequent years, we would find more to write and discover. In total, we worked on the book on and off for six years. By the end, we had so much material the original draft was about twice the size!
It was quite difficult stitching together the art, photography and writing seamlessly. But Nick, who is an artist and art director, did a brilliant job of coming up with the look of the book (if I may say so myself!). He modelled the book on the idea of a time-worn sketchbook. He was also incredibly supportive in many other ways: Patiently teaching me how to use Photoshop and Illustrator so I could lay out each page, as well as encouraging me to paint and sketch many of the illustrations.
From the very beginning I knew I wanted to work with Blacksmith Books. I knew them as the publishers of Sketches of Soho and because our book had a similar aesthetic I knew they would get what we were doing. We felt so lucky when Pete the publisher said yes to our proposal right away!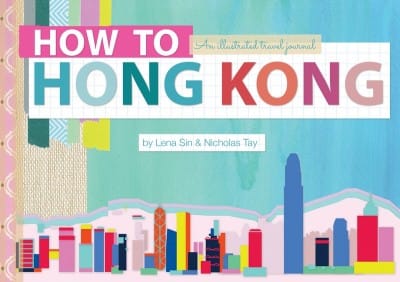 And so here we are with How to Hong Kong now out in the world. We sincerely hope it inspires those who are as passionate about Hong Kong as we are, as well as new travellers who have never been. We hope readers find a bit of wonder and joy in this book in the same way we felt while exploring the city, and that, ultimately, it sparks the desire to discover this ever-changing city.
Follow Lena's blog at www.papayavoyage.com.