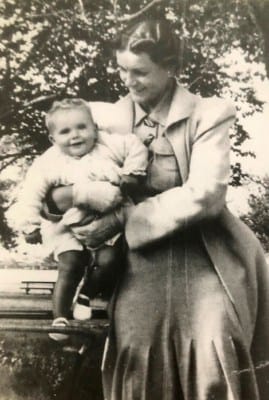 Returning to Hong Kong in 1947 after the Japanese occupation, seven-year-old Mark Isaac-Williams had the whole of Kowloon as his playground. Billeted with his family in the once-grand but now dilapidated Peninsula hotel, his life was full of adventure – from the rooftop to the basement, he knew the hotel's every inch.
Roller-skating and horseback riding in Kowloon's streets and paddling in the hotel's fountain were a child's dream after the privations of war. From rickshaws to firecrackers and ladies with bound feet to the ever-present rat problem and smelly beancurd vendors, the mystique of Hong Kong in the 1940s and 50s is brought colourfully to life by Mark's captivating and richly illustrated story.
Mark's illustrated book of recollections is called The Hong Kong I Knew: Scenes and Stories from a Childhood in Kowloon.
This month, Mark talked to Annemarie Evans for her Hong Kong Heritage podcast about his parents Leonard and Margery. They travelled to Shanghai in the late 1930s when Leonard joined the Chinese Maritime Customs. He was awarded a bravery medal after an altercation with smugglers on the Yangtze river. After being born in Kowloon in 1939, Mark was evacuated with his mother to Australia, while his father was later interned at Stanley Civilian Camp during the war. When Mark returned to Hong Kong he spent his early childhood living in the Peninsula hotel, which had been stripped during the occupation.
Mark still lives in Kowloon today. Click on the podcast link to hear more of his story.