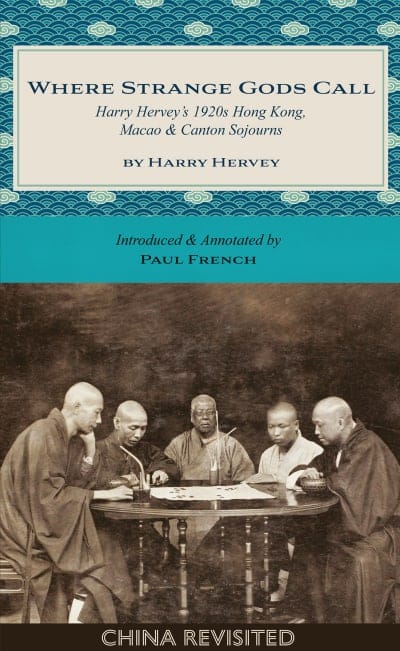 China Revisited is a new series of extracted reprints of mid-19th to early-20th century Western impressions of Hong Kong, Macao and southern China. The series comprises excerpts from travelogues or memoirs written by missionaries, diplomats, military personnel, journalists, tourists and temporary sojourners. They came to China from Europe or the United States, some to work or to serve the interests of their country, others out of curiosity.
Each excerpt is fully annotated by bestselling author Paul French (Midnight in Peking, Destination Shanghai) to provide relevant explications of Hong Kong, Macao and China at the time, to illuminate encounters with historically interesting characters or notable events. The first three books are now available. Click on their titles below to read full details.
No 1: Where Strange Gods Call: Harry Hervey's 1920s Hong Kong, Macao and Canton Sojourns by Harry Hervey
No 2: Wanderings in China: Hong Kong and Canton, Christmas and New Year, 1878/1879 by Constance Gordon-Cumming
No 3: LING-NAM: Hong Kong, Canton and Hainan Island in the 1880s by Benjamin Couch 'BC' Henry
You can order a bundle of all three at a discount. As usual at Blacksmith Books, we offer free postage within Hong Kong and throughout Asia.
---
LAUNCH EVENT: March 12, 2023

China Revisited is a series of rediscovered travel writing on Hong Kong, Macao and Guangdong. Originating from the Victorian, Edwardian and inter-war periods, the writing has been largely forgotten, invariably dismissed for perpetuating cliches and stereotypes, yet the historic accounts are revelatory. Join RTHK producer and presenter Annemarie Evans on March 12th as she converses with curator Paul French and Professor Julia Kuehn of Hong Kong University about the authors, the history of travel writing on Hong Kong and Guangdong, and how best to appreciate and understand these historic works.
This event is part of the 2023 Hong Kong International Literary Festival and takes place at the Fringe Club in Central. Click here for tickets.