Sunset Survivors: Meet the people keeping Hong Kong's traditional industries alive
By Lindsay Varty, with photography by Gary Jones
When: Thursday, September 20, 6-8pm
Where: G.O.D., 48 Hollywood Road, Central, Hong Kong
Who: All welcome. Drinks will be served!
Sunset Survivors tells the stories of Hong Kong's traditional tradesmen and women through stunning imagery and candid interviews. Covering a myriad of curious professions that are quickly falling into obscurity, from fortune telling to face threading and letter writing to bird cage making, readers soon find themselves immersed in the streets of old Hong Kong.

Filled with interviews, photographs and little-known facts about the city's twilight industries, Sunset Survivors is a tribute to those who keep the flame burning in a city besieged by foreign imports and stiff competition. This book is a celebration of Hong Kong's cultural identity. It preserves the memory of these hardy men and women, and educates visitors and locals on the foundations on which the city was built.

An up-close and personal look at the industries and workers that gave rise to the Hong Kong of today, Sunset Survivors is more than just a travel or coffee-table book; it is a tribute to the city's character, a celebration of its roots and a guide to its evolution.

In a city undergoing a dramatic cultural shift, balancing social and political upheaval, the need to document Hong Kong's traditional livelihoods has seldom been greater. Capturing the true personality of this metropolis, Sunset Survivors is a vital piece of history.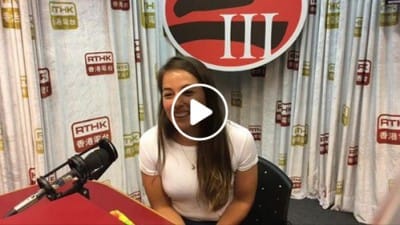 Lindsay Varty spoke about the book to RTHK Radio 3's Noreen Mir this week. Listen in here on the RTHK website or watch on Facebook live.
A Facebook event link for the book launch is here, but there's no need to RSVP. We hope to see you there!