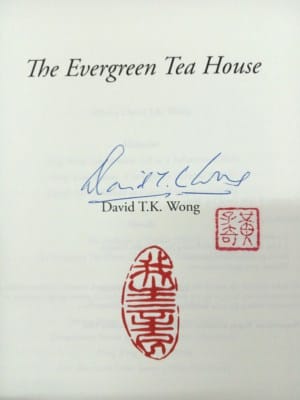 Hong Kong novelist and memoirist David T. K. Wong is happily retired in Malaysia, and at the age of 92 he does not plan a return trip to the Fragrant Harbour any time soon. However he has shipped us a box of 25 signed copies of his novel, The Evergreen Tea House, and they are available on a first-come-first-served basis. If you'd like one, please just write "signed copy" in the notes box upon ordering.
The Evergreen Tea House is a deftly crafted, provocative and poignant tale which blends mismatched love and twisted ambition with political intrigue and diplomatic mendacity. Set in Hong Kong during the twilight years of British rule, the characters live through tumultuous events – the Japanese occupation, the Korean War, the Cultural Revolution – and the emotional trauma associated with the Sino-British Joint Declaration, which precipitated Hong Kong's handover to China.
David is currently working on the fourth volume of his memoirs, following on from third volume Hong Kong Confidential, and we hope to publish it in early 2021.