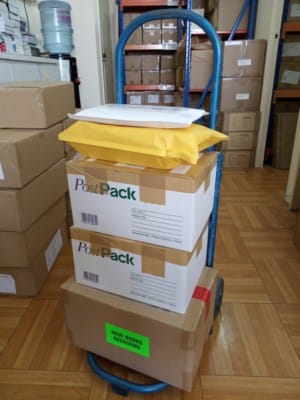 The Blacksmith Books delivery trolley is a valued member of the team. Bought from a hardware shop in Sai Ying Pun for HK$180 more than two decades ago, it has given daily service ever since, carrying boxes full of books along the street to the post office and never complaining.
Last week, though, the trolley had an altercation with a much larger fork-lift machine in the corridor of our building, and it lost. One wheel was left severely buckled. Happily a new wheel has been sourced from a similar hardware shop, and the trolley is now back in service, helping to speed mail-order books to readers around the world.
In other news, we have also upgraded our website to handle payments made by additional methods such as Apple Pay, Google Pay, Microsoft Pay, Alipay and WeChat. Take a look!